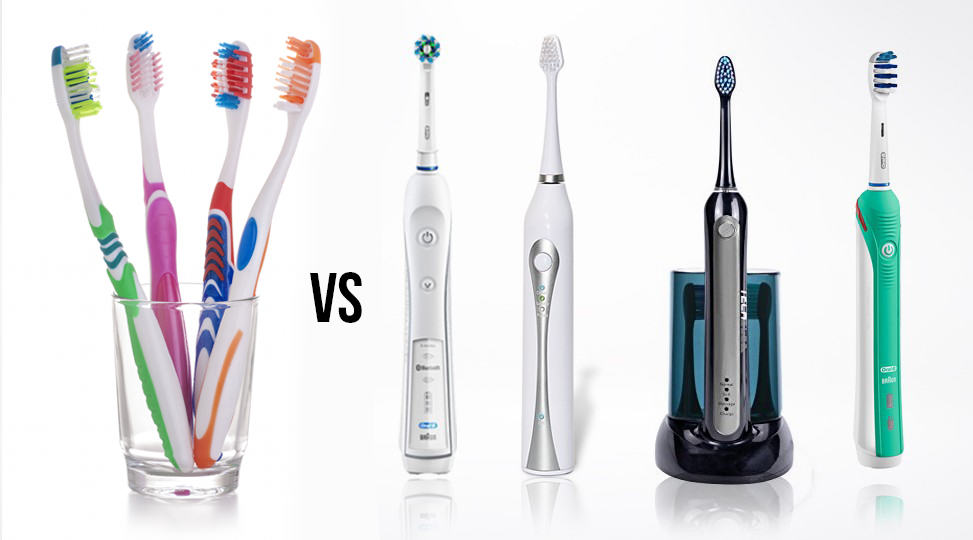 Electric toothbrushes allow users to remove plaque more effectively with LESS effort.
The research shows that people who use a manual toothbrush twice a day with correct technique can have the same level of plaque removal as people who use electric toothbrushes.
However, most people do not brush to 100% efficacy with their manual toothbrush. Switching to an electric toothbrush improves percentage of plaque removal.
So, if you are a manual toothbrush user who has a high risk of decay or gum disease and have trouble reducing plaque scores, switching to an electric toothbrush can be good tactic to improve oral hygiene.
Electric toothbrushes come in two types, oscillating (Oral B) and vibration (Sonicare). There is limited unbiased research into which type is better than the other. Some suggest that the rotating action and small head of the Oral B is able to access difficult areas better, as well as being difficult to put too much pressure for those who use a scrubbing hard brushing action. The Oral B is generally better priced at the low end (about $50) for people looking to use an electric toothbrush.
Gentle Dental Centre sells Oral B toothbrushes at the entry level and also the deluxe model Triumph 5000.
Our Phillips Sonicare model is not for  in house testing but the dentist can show you how it works.
We do have the Oral B testdrive which lets you test it with your very own brush head, during your dental appointment. Just mention you'd like a demonstration when booking your examination.